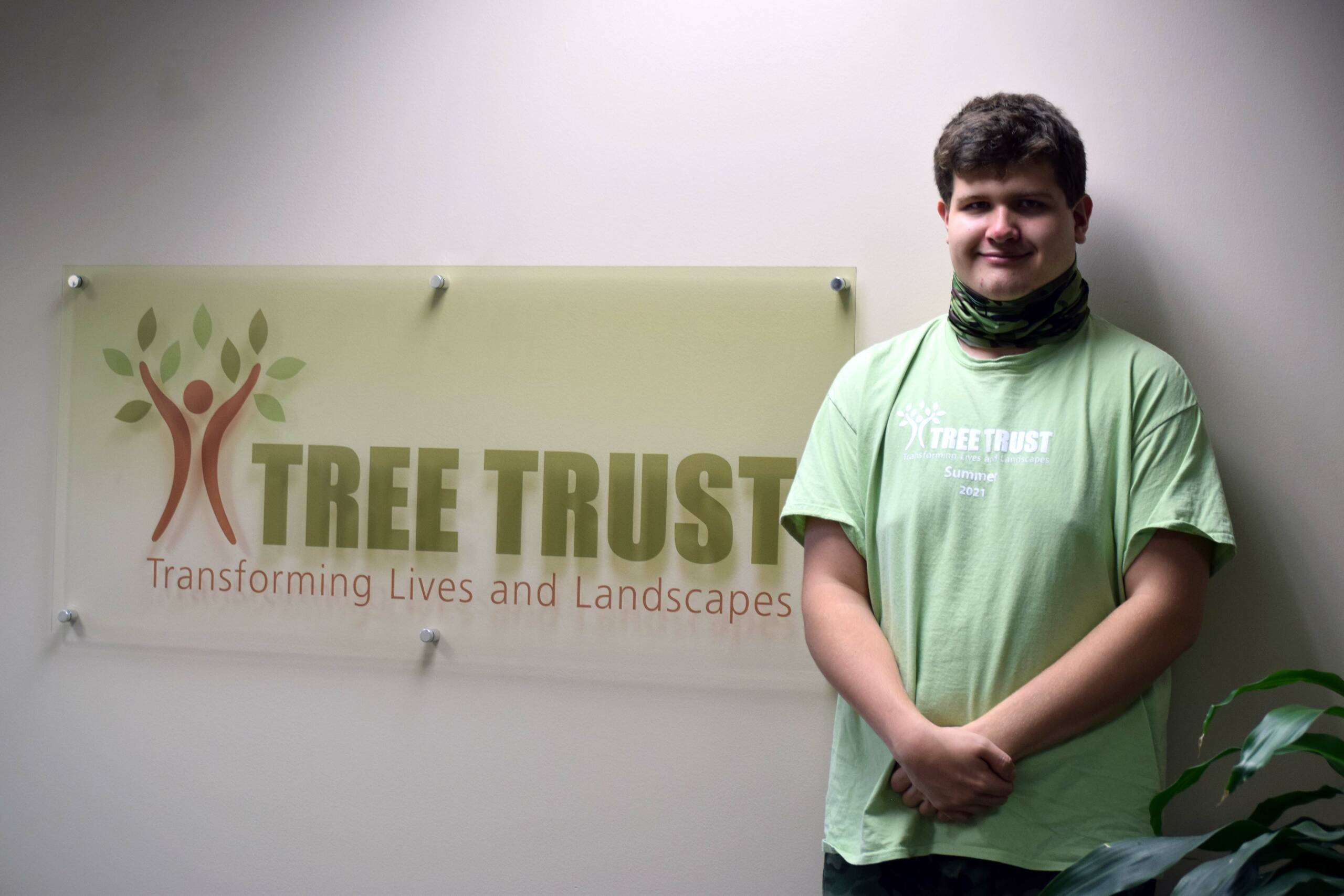 Meet two of Tree Trust's veteran participants: Daniel and Abby. These two have a combined six years of experience working with Tree Trust, both through the Summer Youth Employment Program (SYEP) and our very first Green Industry Exploration Program, supported by our partnership with Dakota County and Dakota Electric Association. 
Abby was introduced to Tree Trust by her older brother, who had participated in the Summer Youth Employment Program when he was her age. After spending four summers with Tree Trust herself, Abby gained a great deal of green industry knowledge and experience. She even held a brand-new leadership role in SYEP – the Assistant Crew Leader position, designed for returning participants. Abby loved this experience: "People were so nice, and I met a lot of new people. It was really cool being the Assistant Crew Leader."
Abby was especially fond of the Green Industry Exploration Program. Through this program, participants earn a paycheck while attending virtual learning sessions and site visits with our green industry and environmental employer partners. Abby gained a special interest in solar panels and even helped her family get solar panels of their own. "I'm so happy my mom got me into it because it changed my life."
Daniel's (pictured above) interest in Tree Trust stemmed from his passion for trees and the environment. Throughout the summers of 2020 and 2021, Daniel worked with his SYEP crews in parks that he and his parents had visited when he was a child, reconnecting to these green spaces he had explored in his younger years. As a result of his time with Tree Trust, he was inspired to take a Biology of Minnesota course at his school. He has since done multiple presentations on the trees of Minnesota. When asked about Tree Trust's impact on Daniel's life, he and his father immediately responded: "Tree Trust is our hero."
Along with the individual impact on Abby's and Daniel's lives, working at Tree Trust helped these two young people grow as a team. Daniel and Abby have known each other since middle school and continue to attend school together even now. Through their shared experience on an SYEP crew at Tree Trust, their friendship grew stronger. Together, Daniel and Abby repaired a riverbed, uprooted loads of buckthorn, contributed to some serious environmental projects, and met with leaders in the green industry. The two recall fond memories of working together and with their crew, despite intense heat, unpredictable weather, and—as Daniel puts it—"Mother Nature's parasites." They grew as individuals and a team, all while leaving behind something positive for the community to enjoy for years to come.
Tree Trust is honored to work with young people like Daniel and Abby, transforming lives and landscapes, and working together every single day towards our shared vision of a thriving workforce living on a healthy planet. That's what it means to be a part of our mission. Thank you, Daniel and Abby, and all of our participants, for showing up to make this community a greener, healthier place while you grow and develop through Tree Trust programs!
You can join us in partnering with these young people by making a gift today. Consider donating to Tree Trust to support these programs and give young people a supportive environment to expand their skills and connect to meaningful employment. Or, simply spread the word! Tell the young people in your life about Tree Trust. As Daniel testifies to anyone interested in joining our programs, "Try it. You'll love it!"