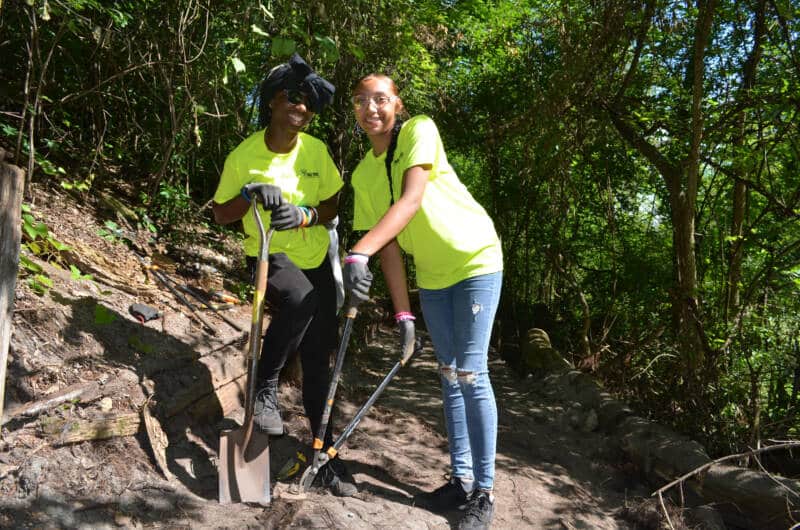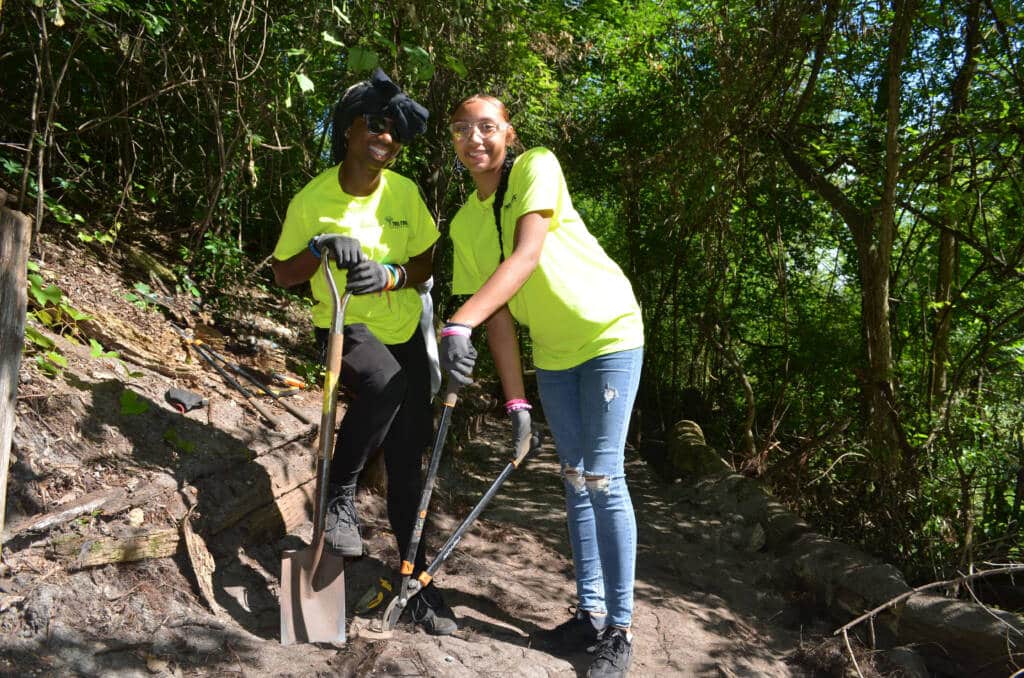 Tree Trust's Summer Youth Employment Program
Tree Trust provides a launching pad for youth, propelling them towards employment and self-sustainability. We offer programs for young people to explore their career goals while completing construction and landscaping projects that make the Twin cities more beautiful. Tree Trust's Summer Youth Employment Program (SYEP) is the first level in our Career Pathways programming, and helps youth ages 14-21, with little to no experience in the workplace earn money while developing the professional skills that will ensure success along whatever career path they choose. Tree Trust employs youth from diverse backgrounds including at-risk youth and disadvantaged youth. Participants can earn a Tree Trust SYEP certificate for skill building in the areas of Employability, Worksite Safety, Tool Identification, and Environmental Stewardship. Tree Trust SYEP participants learn how to work together in teams and build community within their individual crews. Every SYEP youth crew is instructed on how to complete a large project by breaking it down into smaller achievable tasks. It is these important life skills that will catapult young people to success, opening the door to a myriad of employment opportunities, including full-time employment in well-paying, in-demand jobs in the public and private sectors. 
Working in an Outdoor Office
Tree Trust's youth participants are ambassadors of our mission to transform lives and landscapes. Youth working in Swede Hollow Park are playing a vital role in re-connecting the Dayton's Bluff community with neighborhood history. On a recent morning, a Tree Trust SYEP crew of youth employees were hard at work in their "outdoor office" at Swede Hollow Park in Saint Paul. Working as a team, SYEP youth hammered out a large boulder and removed old tree stumps to clear a trail that will improve access to green space in Swede Hollow Park. Their work is daylighting a historical road once utilized by Swedish, Irish, Polish, Italian and Mexican immigrants on their way to a new life in America.  
Swede Hollow Park: A Brief History
Tree Trust's trail improvement project in Swede Hollow Park is a continuation of a previous project building stairs down to Phalen Creek. Until 1820, Phalen creek was a Dakota settlement, providing fresh water and transportation to the confluence of the creek and the Mississippi River. This junction is a sacred Dakota cultural site known as "Bdote." Later, the railroad arrived at Swede Hollow Park, bringing with it a new wave of settlers who lived along Phalen Creek in makeshift homes until 1956, when the City of Saint Paul condemned the structures for public safety concerns.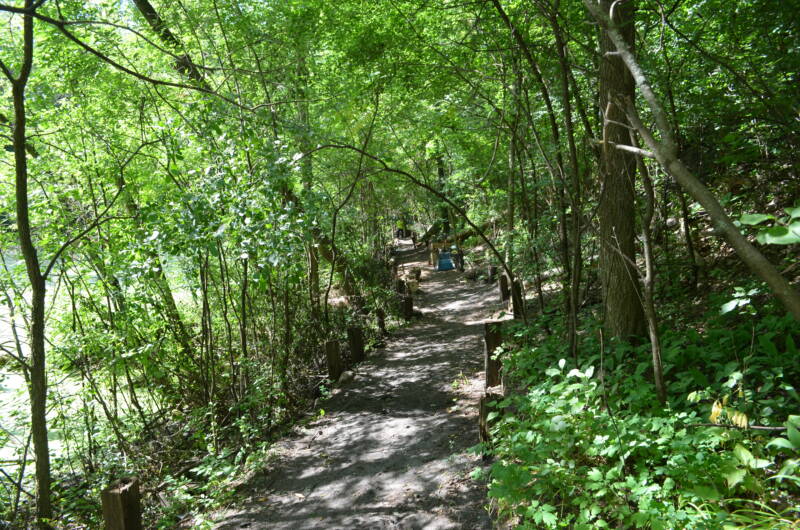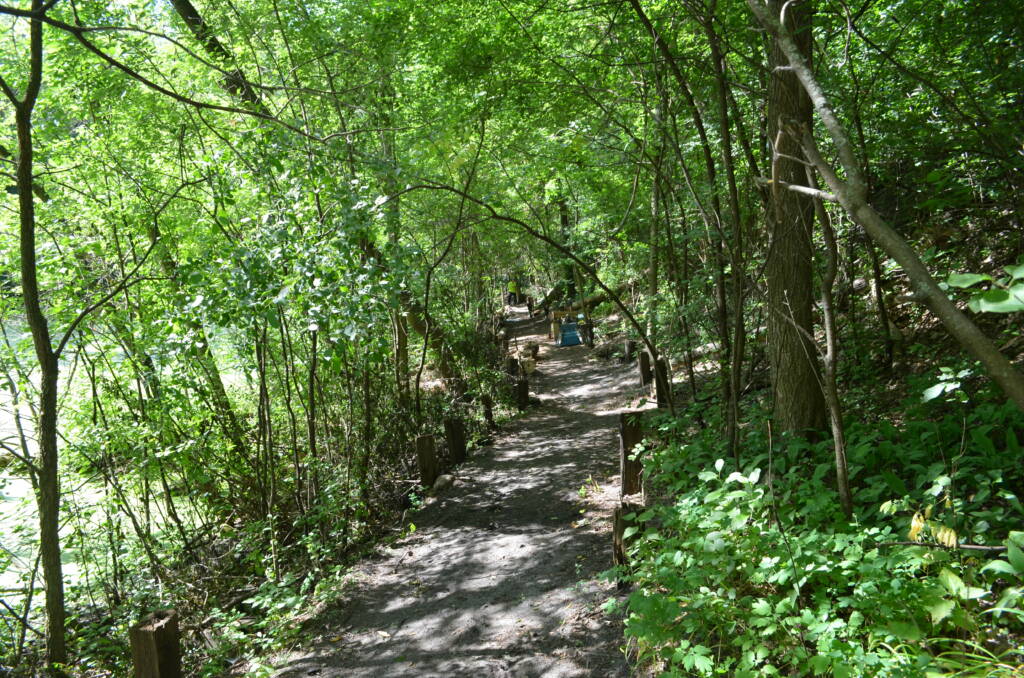 Tree Trust's SYEP crew are helping to uncover the old road along the former immigrant settlement. Tree Trust is working in tandem with Saint Paul Parks and Recreation for the Swede Hollow project, improving access to a community green space that is also a historical landmark and a tribute to the diverse community of people who settled in east Saint Paul. Saint Paul Parks and Recreation installed permanent signage at park trailheads, telling the story of Swede Hollow's history. Tree Trust's trail improvements in Swede Hollow Park foster a growing partnership with Saint Paul Parks and Recreation, and with a group of community leaders and park afficionados known as The Friends of Swede Hollow. 
Community Building
Just as the communities of Swede Hollow immigrants worked together to thrive in an unfamiliar environment, Tree Trust's Swede Hollow team worked together, taking turns in efforts to remove large obstacles blocking the trail. The youth voice was strong as they learned how to work as a community, cheering one another on to complete big projects one step at a time. These young workers are building important life skills that will lead to successful careers along whatever path they decide to take. If you would like to support Tree Trust's work to transform lives and landscapes through youth employment services, please consider a donation to make these opportunities available to more youth.