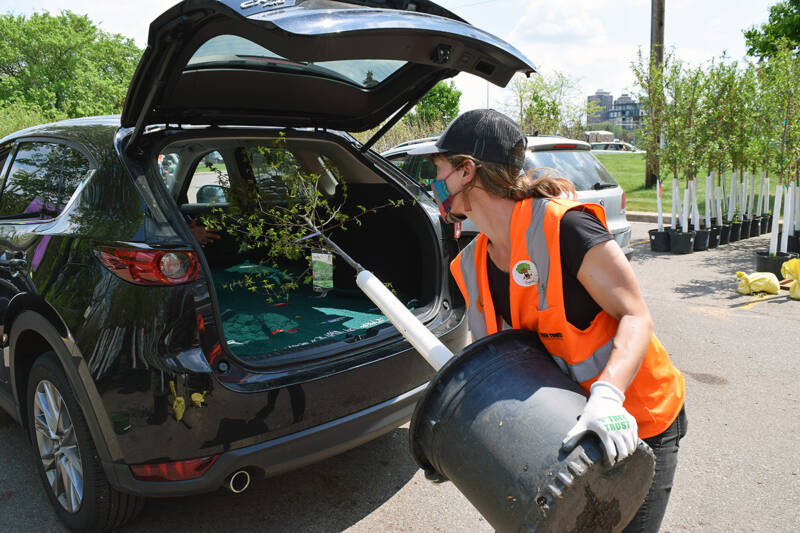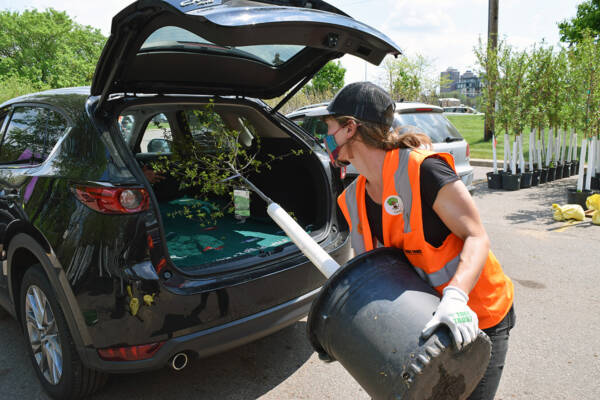 At Tree Trust, we believe that trees make a real difference in the lives and landscapes of every neighborhood we serve – they clean the air we breathe, manage stormwater, keep us cool, reduce our stress levels, and so much more. Trees provide the essentials for life on Earth for future generations, which is why we believe it is so important to plant trees and make our neighborhoods greener.
Each year, we partner with communities around the Twin Cities through tree sales to grow the urban canopy. As emerald ash borer (EAB) kills Ash trees throughout Minnesota, tree sales are one of the best ways to combat the devastating effects of EAB. Community tree sales are not only a solution to urban canopy loss but also an important way to increase the variety of tree species, resulting in a more diverse and resilient urban forest. This spring, five cities, including Minneapolis, St. Louis Park, Maplewood, Mendota Heights, and Eden Prairie, partnered with us to increase their canopy on private property through a community tree sale, an innovative cost-share program. Homeowners purchase high-quality trees from local nurseries at a steep discount, so that everyone can experience the benefits of trees.
Together, we distributed 2,270 trees through community tree sales this spring!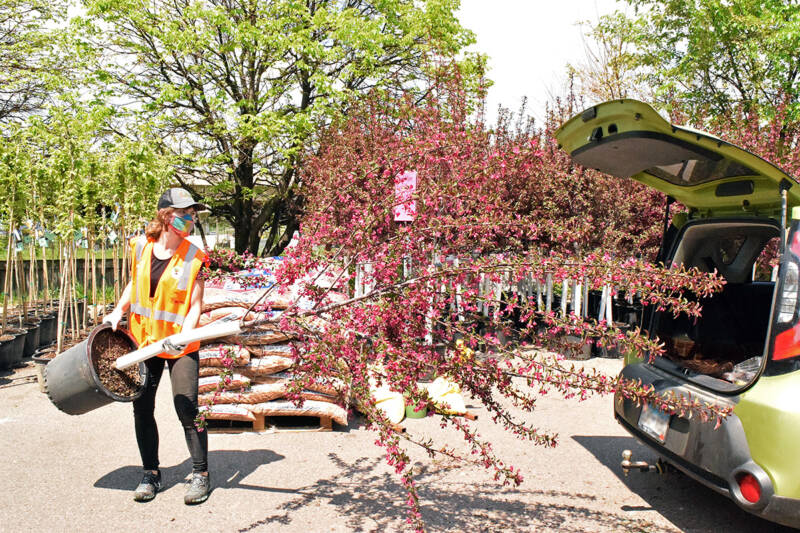 Art, a tree sale recipient, shared with us, "Thank you for putting together the great tree program. I was very pleasantly surprised how nice the trees are. Also, a well-organized collection of the trees. Great job!!"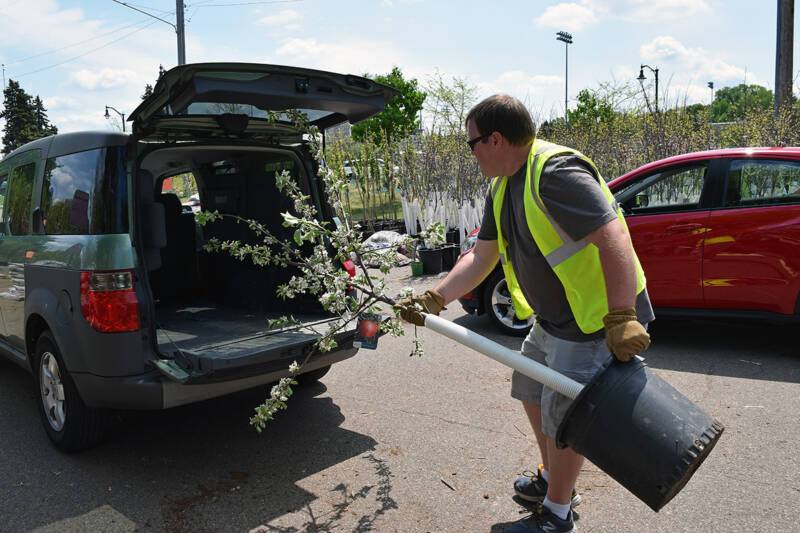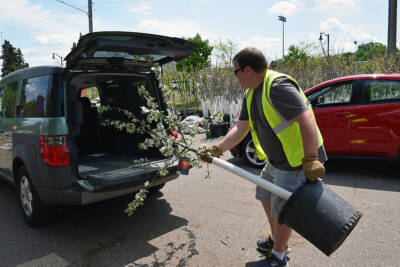 From increasing shade to reducing heating and cooling bills, residents plant trees on their property for a variety of benefits. While picking out her scarlet oak tree, one tree sale recipient told us, "We are first time homeowners, and we are trying to get some more greenery in our yard."
Other participating community members replaced trees that had fallen or died due to EAB. One person commented, "I had an ash tree that died. It looked really nice in the front yard and now it feels like there is a hole, so this new tree is going to be great. I'm so excited and can't wait to watch it grow."
Property owners and licensed rental property owners citywide are eligible to participate in tree sales. Tim, a tree sale recipient and rental property owner, heard about us from our Tree Trust Landscape Services division. He explained, "We hired Tree Trust to do some grading and drainage work at one of our rentals a few years ago. We were getting water in the basement, so they came out and graded the backyard."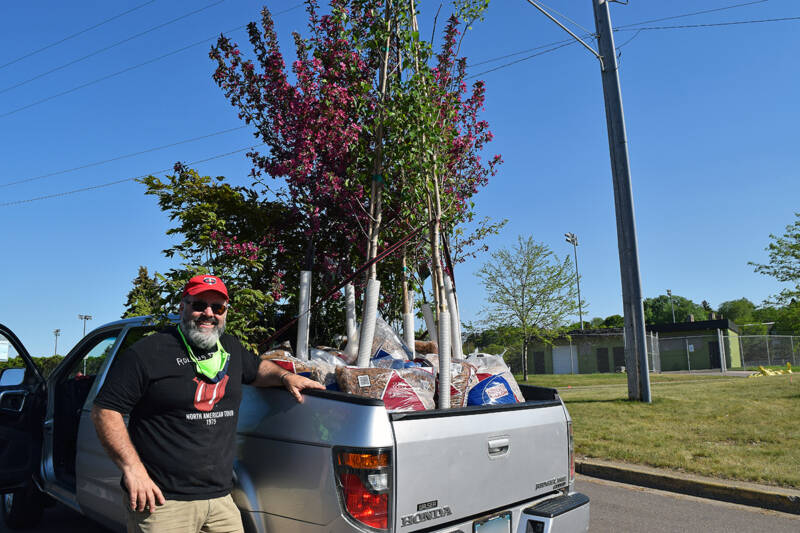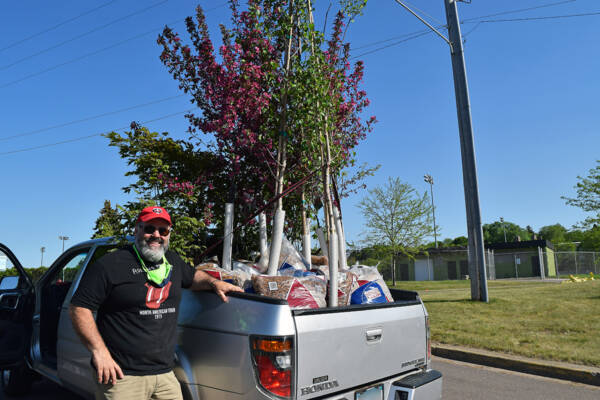 When Tim and his wife learned about the annual tree sale program in Minneapolis, they ordered 10 new trees for their properties. He continued, "We've got a bunch of rentals in north Minneapolis, so we are going to decorate the whole neighborhood. We have had a couple of ash trees taken down and a huge, older tree taken down because it was ready to fall. We are excited to pick up these new trees for our properties." Working with one of our volunteers, Tim managed to fit all 10 trees and bags of mulch into his pickup truck. 
Thank you for ordering a tree this year through a community tree sale and making our neighborhoods greener! If you want to help us grow a vibrant and resilient urban forest, you can also volunteer at our tree planting and distribution events during the spring and fall.
Join our volunteer email list and you'll be the first to hear about volunteer opportunities.