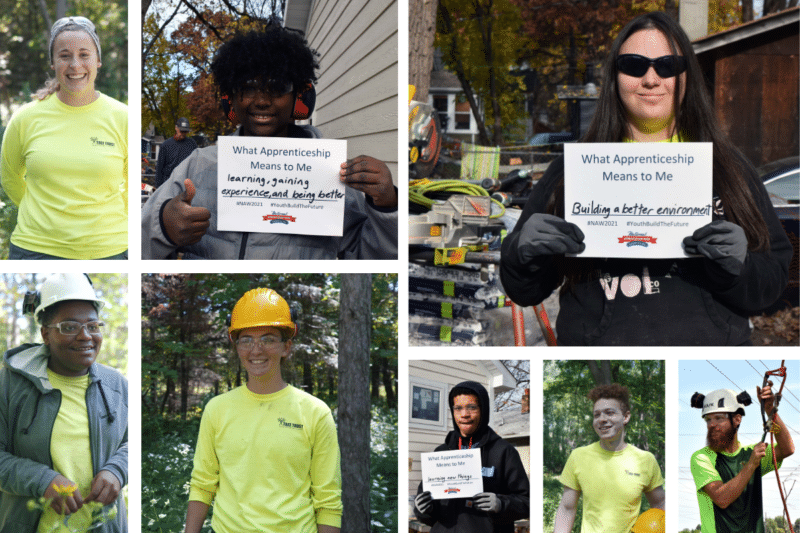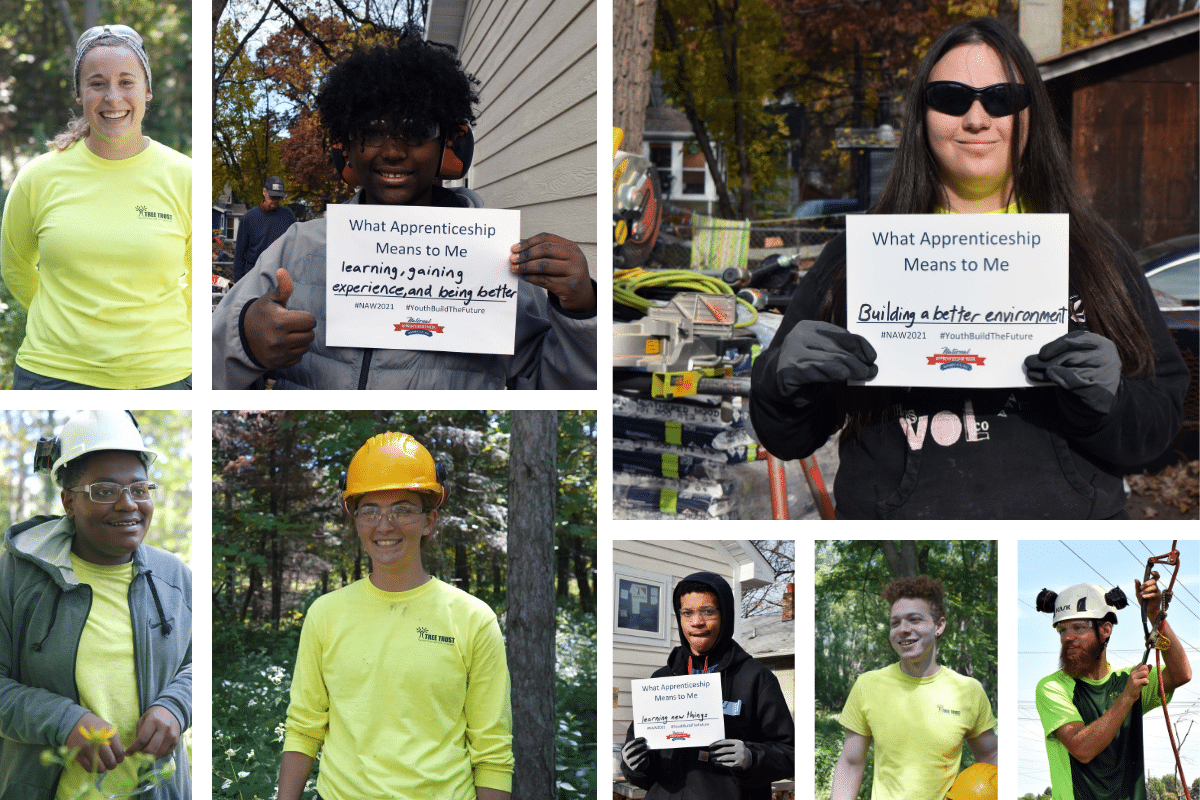 We're celebrating National Apprenticeship Week 2021! This year's theme is "Build the Future" – a theme that we, at Tree Trust, embody in our work and mission. We are constantly pursuing our vision of a thriving workforce living on a healthy planet through our Career Pathways employment training programming. Supporting young people – the future experts and leaders in the green industry and other skilled trades – is essential to growing and strengthening our workforce and society.
At Tree Trust, one of our core focus areas is equipping people to achieve family-supporting, skilled trade, green careers to create economic opportunity and equity. To do this, we offer various opportunities to help promising young people develop skills for meaningful employment. Today, in honor of National Apprenticeship Week, we are excited to highlight our pre-apprenticeship employment training programs – Tree Trust YouthBuild and Branches – and our Registered Arborist Apprenticeship.
Pre-Apprenticeship Employment Training
Pre-apprenticeship is an industry-based employment training initiative that prepares entry-level workers for careers in the skilled workforce or registered apprenticeship careers. This successful, hands-on training model offers a way for young individuals to avoid school debt, gain employability skills, and enter the workforce quickly. An alternative to traditional, expensive training through school programs, pre-apprenticeship opens pathways for eligible participants to enter in-demand, skilled careers that pay living wages and have great benefits. Through educational skill building, pre-apprenticeship students receive technical instruction from experts, master trade skills based on industry standards, and earn nationally-recognized credentials for their field.
Tree Trust YouthBuild and Branches are high-quality pre-apprenticeship programs that build a pathway to sustainable employability for our participants. Our program participants belong to a supportive team during their pre-apprenticeship employment training. Tree Trust staff provides valuable mentoring and resume-building experiences, connections to apprenticeship opportunities and potential employers, and assistance with post-training career placements. A unique feature of Tree Trust's pre-apprenticeship programs is that students not only develop valuable job skills in construction, landscaping, and tree care, but also make our community a greener, heathier place to live in the process.
Would you like to develop essential employability skills while helping your community through home construction, tree care and landscaping? Find out how to join our pre-apprenticeship employment training programs on our website!
In Their Own Words
Discover what these students have to say about the Tree Trust YouthBuild program. 
Here's what our Branches participants shared with us about their employment training experience. 
"I didn't think I would be working with this diverse of a group of people. We all come from different backgrounds, especially in terms of our education and socioeconomic status. But at the end of the day, we are all here to help our environment, community, and tree canopy. Being able to come together and do this is really special."
"[Branches] really inspired me. I want to work at a landscape company or open my own landscape company in the future. I would recommend Tree Trust to everybody. It's a good learning experience and a good first job."
"Tree Trust has definitely opened my eyes not to just green careers, but also labor fields as a whole, like construction. I did drop out of college because I realized I was blowing a lot of money on something that wasn't for me. I realized with Tree Trust that I really like to do work physically, be outside, and learn continuously to expand my knowledge. I'm definitely thinking about joining an apprenticeship program."
"I really love watching the youth grow. Sometimes you can't see it day-to-day, but looking from the beginning of the cohort to now, you can see how much they've grown, not only in their career but also as people. I love seeing that progress that they make."
Registered Arborist Apprenticeship
In addition to our pre-apprenticeship programs, we are also celebrating our Registered Arborist Apprenticeship at Tree Trust Landscape Services, our social enterprise division. This tree care apprenticeship is a nationally recognized, high-quality, career pathway that helps workers fast track career goals, avoid school debt, and earn competitive wages. An earn-as-you-learn workforce training initiative, the registered apprenticeship is a successful model to build a pipeline of highly skilled arborists in a high-demand industry. Apprentices complete 6,440 hours of combined classroom instruction and on-the-job training, supervised by an experienced arborist, with 500 of these hours devoted to safety. Apprentices earn a nationally recognized credential upon completion of the three-year program and are then qualified as Journeyworker Arborists to train future apprentices. Contact us at [email protected] to learn more!
"I'm looking forward to finishing the apprenticeship program and help train other apprentices. I've gained insight both from the other apprentices and from my instructor. I've felt more confident and knowledgeable on the job as a result of the apprenticeship."
Build Your Future
Launch your career at Tree Trust today! Join Ellie, Markel, Larry, and many others who are building their futures and gaining valuable workforce skills through our pre-apprenticeship programs. Visit our website to learn more.