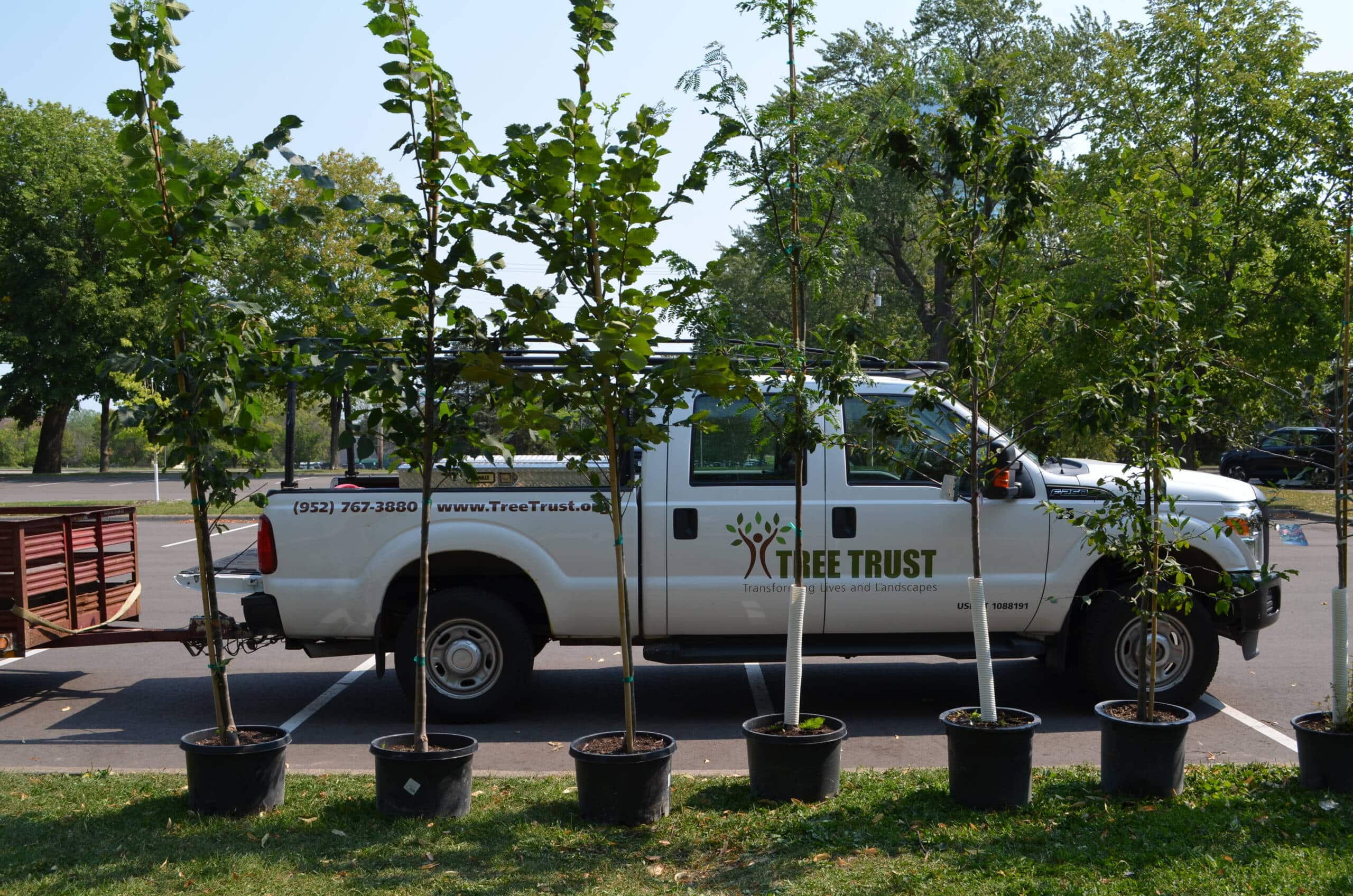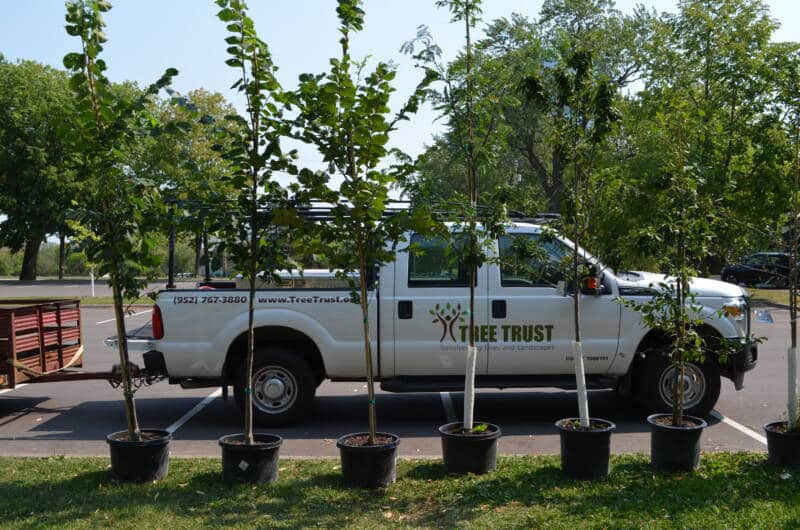 The Importance of Biodiversity
Tree Trust plants a diverse variety of tree species at each of our planting events. Our goal is to create an urban forest resilient to disease. The technical term for this method of planting is biodiversity. Tree Trust's Community Forestry team, through biodiversity assessment and considering environmental conditions, carefully selects a unique catalogue of native and non-native trees to combat pests that devour certain species of trees—like elm and ash—to near devastation. After Dutch elm disease wiped out Minnesota's elm trees in the 1970s, and with emerald ash borer diminishing our current ash population, it is evident that biodiversity is key to growing a healthy, resilient tree canopy for a greener future.  
What does a diverse tree canopy look like? Well, let's explore some characteristics of tree diversity by meeting some of the tree species we are planting in the Twin Cities this fall.  
Planting a Greener Future: Meet the Trees
Autumn Gold Ginkgo (Ginkgo biloba)
This variety is one of the oldest in the world. The ginkgo will reach heights of 25-50 feet at maturity and is a popular tree to plant in urban areas due to its tolerance of heat, salt, air pollution, and confined spaces. It produces vibrant green fan-shaped leaves that transform to yellow in the fall. Ginkgo seeds and leaves offer medicinal benefits, and this ancient species can live up to 3,000 years. This year, Tree Trust planted ginkgo trees at Taft Park in Richfield, Minnesota.  
River Birch (Betula nigra)
Environmental conditions for birch favor riverbanks; however, as an ornamental tree they can be planted anywhere. The river birch grows 13-24 inches per year and is resistant to many invasive pests. River birch bark is cinnamon colored and peels and curls once the tree is mature. Visit Roseville, Minnesota and look for the birch trees we planted to replace ash trees infected with emerald ash borer.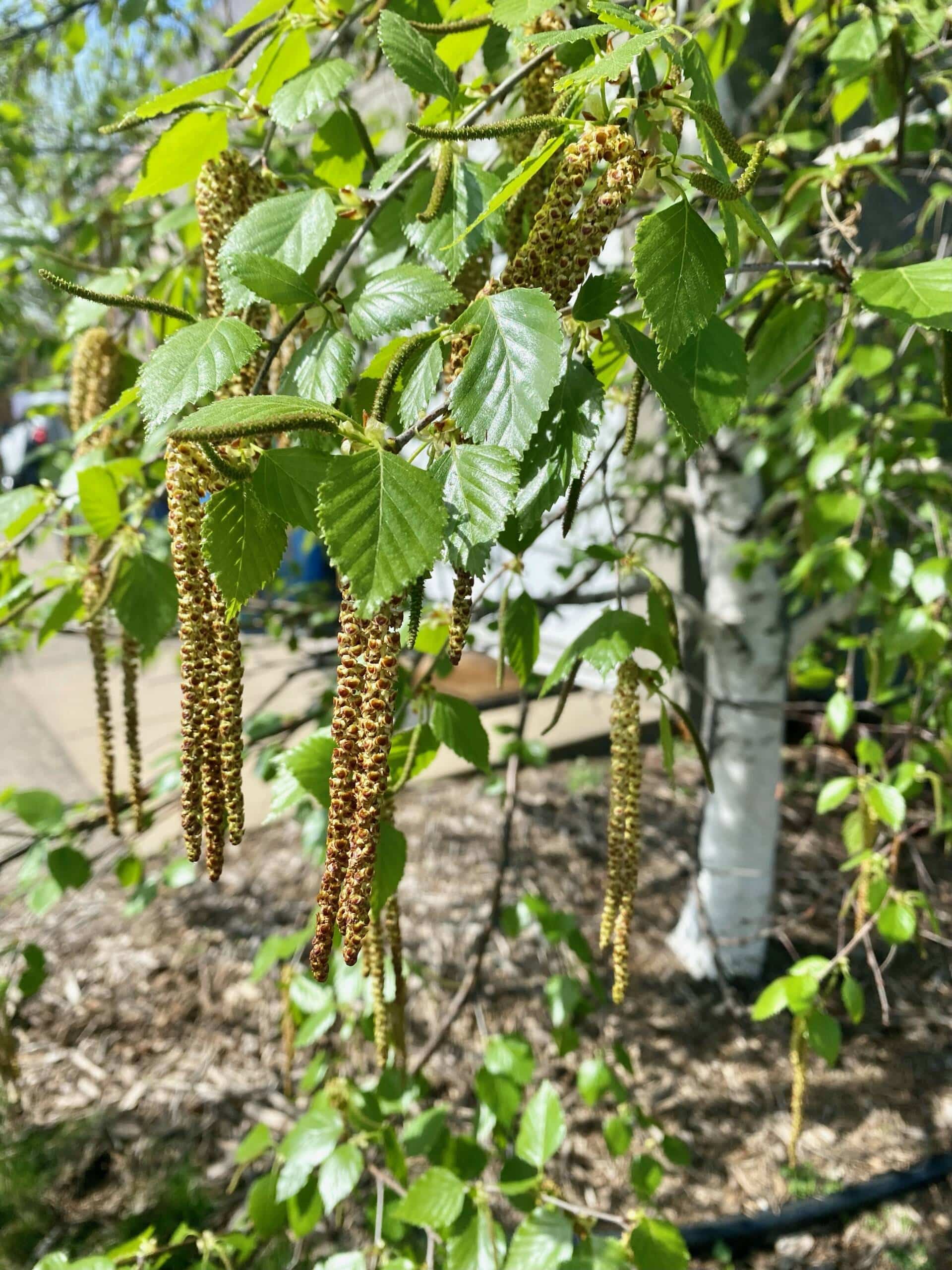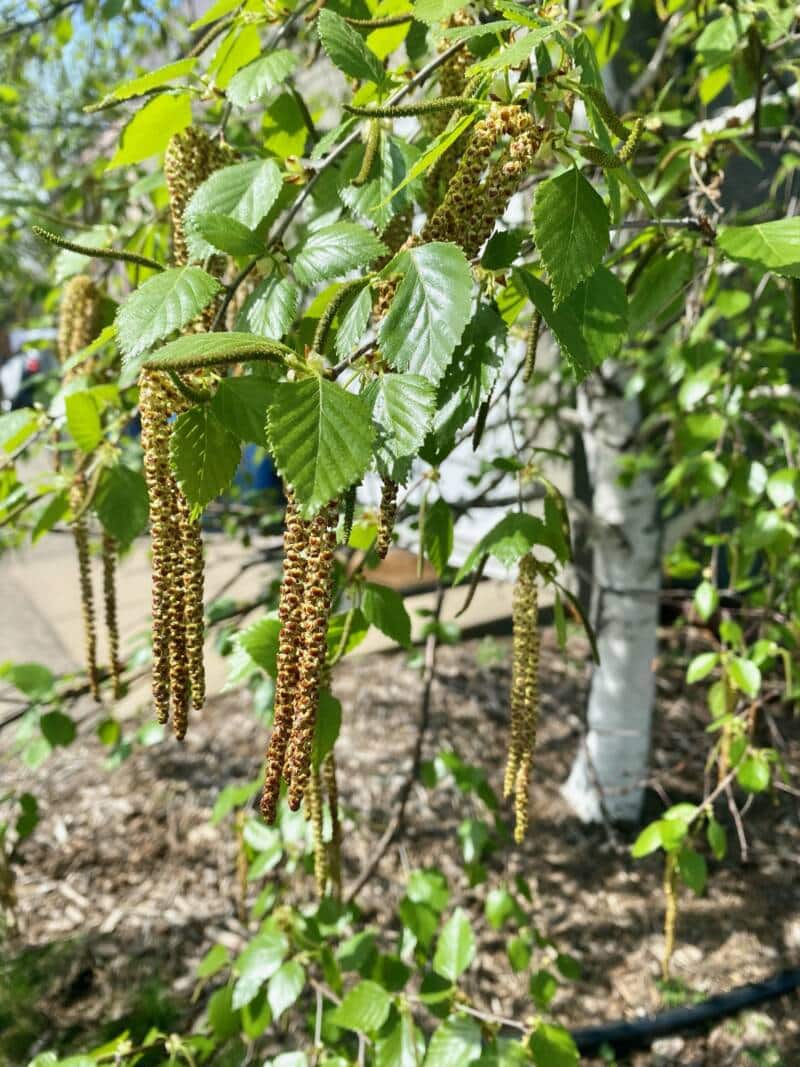 Kentucky Coffeetree (Gymnocladus dioicus)
Named for seed pods that resembled coffee beans to early Midwestern settlers, this versatile tree smells like roses when the female trees flower in early spring. A shade tree that is also considered ornamental, the Kentucky coffeetree is a frequent flyer at our planting events due to its versatility. It is drought-resistant, tolerant of pollution, and adaptable to a variety of soils.  Take a visit to Lake Phalen Park in Saint Paul,  Minnesota and see if you can spot the Kentucky coffeetrees we planted this fall.  
Catalpa (Catalpa speciosa)
This variety is a showstopper with large green heart-shaped leaves and fragrant flowers that bloom in the late spring. It grows well in both urban and suburban areas, reaching heights of 40-60 feet at maturity. Catalpa flowers are a fan favorite of both hummingbirds and the catalpa sphinx moth. Christian Park in Richfield, Minnesota has some beautiful new catalpa trees ready for you to enjoy.  
Swamp White Oak (Quercus bicolor)
If you are looking to grow shade, the swamp white oak is for you. Swamp white oaks grow well in both urban and suburban areas. At full maturity, its canopy will spread up to 60 feet and provides shade and shelter for local wildlife. Tree Trust crews and community volunteers planted swamp white oak trees at Willows of Aspen Park in Brooklyn Park, Minnesota this September. 
London Planetree (Platanus x acerifolia)
This towering tree can reach soaring heights, growing to 75-100 feet at maturity. It boasts cream–colored bark and large, distinctive dual–tone leaves. The origin story of the London planetree has been lost to time. It is believed to be a hybrid of an American sycamore and the Oriental planetree. Tree Trust planted London planetrees near the beach at Long Lake Park in Ramsey County, Minnesota. See if you can spot them there!   
Tree Diversity Is The Key To A Greener Future
The composition of trees in Minnesota's urban canopy leans heavily towards ash, which comprise 40-60 percent of Minnesota's forests. As city municipalities create ecology and management plans to sustain the ecosystem health of their communities, they are quickly learning that urban forest conservation must include biodiversity. Tree Trust's Community Forestry team enhances our urban forest by planting diverse species compositions that can thrive in Minnesota's natural ecosystems. Ultimately, the solution to saving Minnesota's urban tree canopy from the current threat of emerald ash borer, as well as future pests, is planting a diverse forest structure built on tree species richness and biodiversity. Consider a donation today to help us plant more diverse trees.  
*Tree facts courtesy of the Arbor Day Foundation at arborday.org