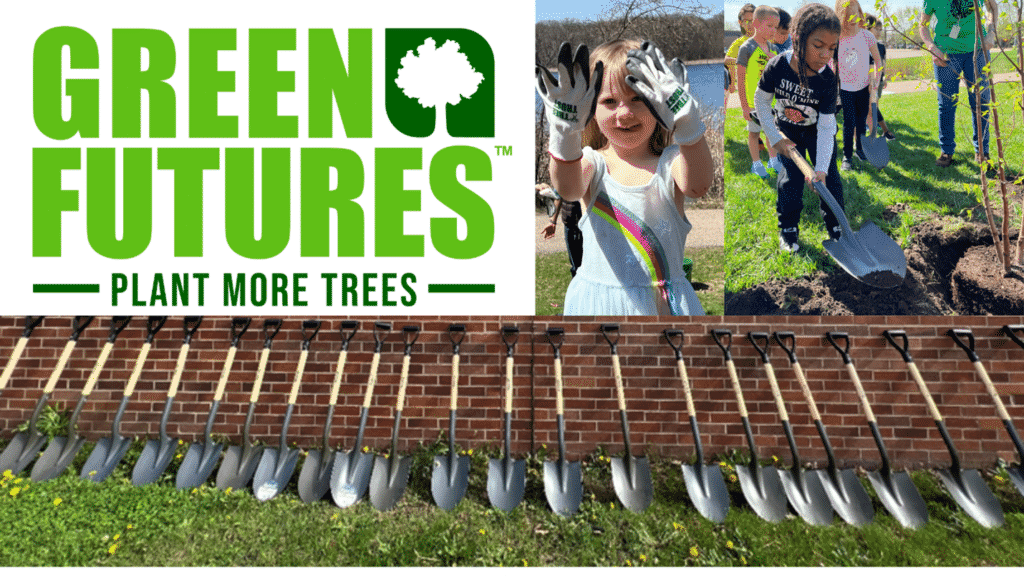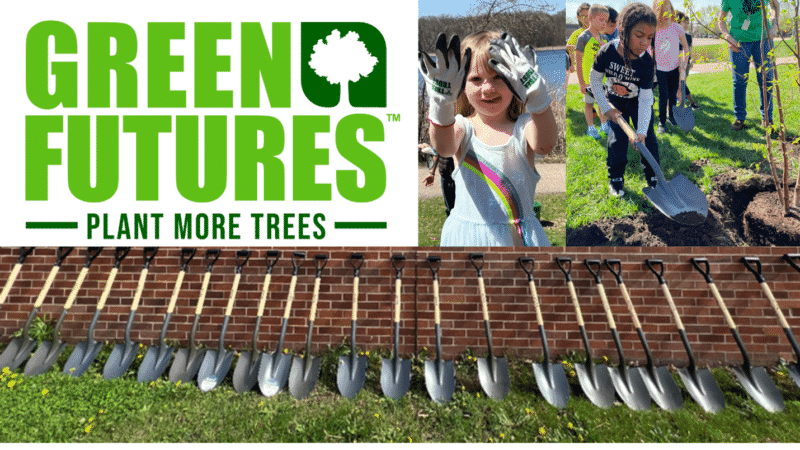 During the month of May, we began our spring planting season in many a park and facilitated tree distributions to residents of cities throughout the metro area. We also focused on our Green Futures initiative, raising funds to plant trees in our cities, school grounds, and parks to replenish our urban forests.
The story of Tree Trust began in 1976 when our two founders were inspired to rewrite the narrative of a bleak present. As Dutch Elm disease devastated the urban environment and unemployment rates skyrocketed, they started programming to remove dead trees, plant healthy ones, and employ community members in need. Fast forward to 2022, and Tree Trust is still carrying out our mission of transforming lives and landscapes, which has remained consistent from our humble beginnings. Our Career Pathways programs continue to provide training and opportunity in green careers for young people, and we work harder than ever to treat and replace trees in our urban green spaces devastated by the pest emerald ash borer (EAB).
Urban Green Space Makes For Healthy Communities
Successful urban communities and vibrant urban green spaces work in tandem. Urban forests directly affect the mental health and physical health of residents in our cities. Bustling streets lined with leafy green trees offer a better quality of life, increase property values, create a natural habitat for wildlife, and develop a welcoming aesthetic that cannot be beaten. Green space access to parks and community gardens offers increased physical activity and improved environmental quality adding to the overall health and happiness of urban residents. Turns out, there are scientific reasons that validate the joy brought by trees in our urban landscape and the benefits they provide to our natural environment.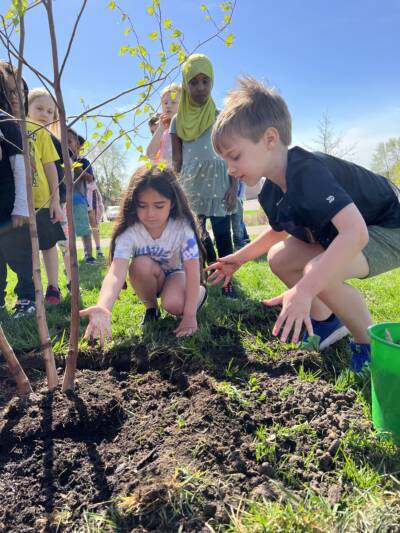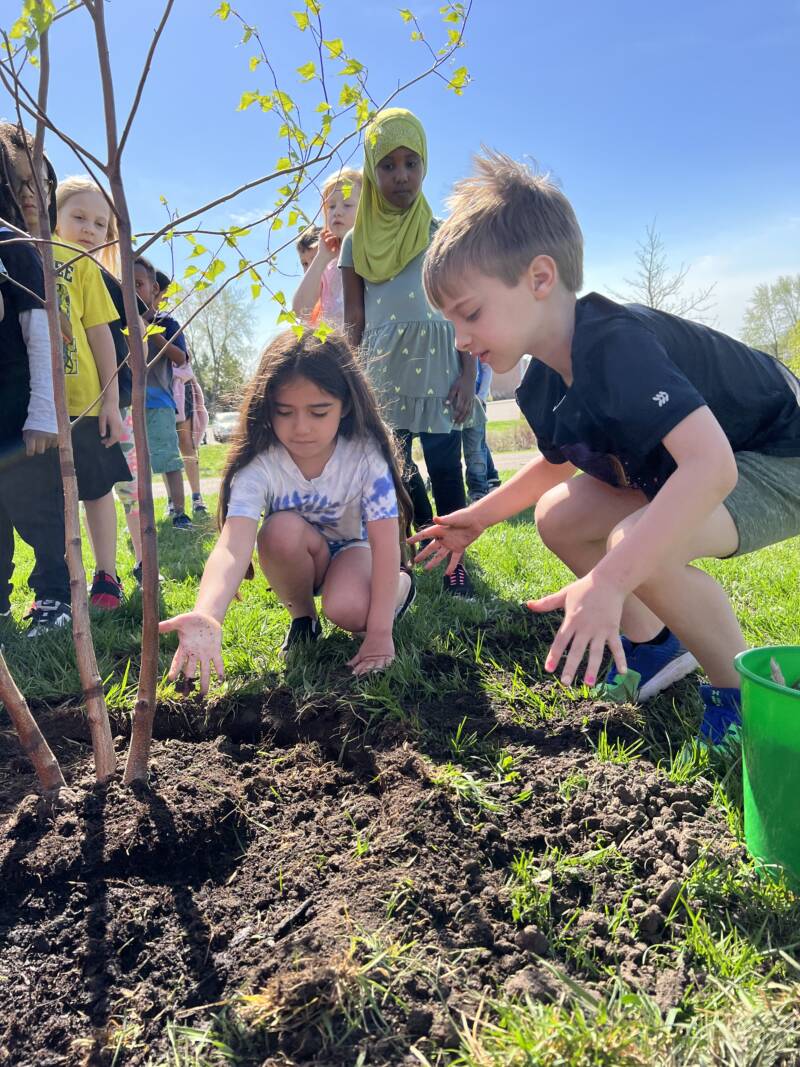 The Benefits of Urban Green Space
Green environments in public spaces impact quality of life for the better in so many ways.
Parks offer space for enhanced community social interactions, social cohesion, and social networks.
Green areas provide increased opportunities for physical activity, leading to higher public health.
Access to natural environments helps reduce depression and increase mental health, leading to a better quality of life.
Green spaces offer opportunities for increased cognitive development and physical activity in children.
Trees remove heavy metals and other pollutants from ground water.
Trees within urban land reduce air-pollutants by as much as 40 percent for nitrogen dioxide and 60 percent for particulate matter.
*Information from "The Case for Trees," Arbor Day Foundation.
 Our Urban Green Spaces are in Peril
Ash trees make up 60 percent of Minnesota's urban green spaces. Untreated ash trees infected with EAB will perish within one to three years. The current narrative of Minnesota's urban green spaces may seem difficult, but there is hope! With your donation to our Green Futures initiative, we can create a new chapter in Minnesota's tree story – a tale of resilience and community building, with urban residents working together to beautify their beloved urban parks. The time is now to plant more trees! Green Futures aims to plant 6,000 new disease-resistant trees in Minnesota's urban spaces. With your help, we can mitigate the destruction of emerald ash borer together.
Your Support Makes A Difference
We can see the tangible results of our work through the shared success stories from our donors, volunteers, program participants, and community members. It is these emerging Tree Trust stories of positive change that function as a catalyst to drive our Green Futures efforts, as we work hard, tree by tree, to plant a healthier, more vibrant tomorrow. Together we can craft a new green narrative that will be our shared story.
As one donor recently said…
"I'm inspired to give because I love the outdoors. I am happiest when I'm outside. I find nature to offer many medicinal benefits. So, I'm donating to hopefully make it easier for young people, maybe to even choose a career pathway to care for the environment. There are too many people in my generation who have dropped the ball. Nature is a balm. They've done studies where people who spend time with trees or look at water don't seem to have the anxiety or depression that those who are on their phones in the cities."
With your continued support, we know our Green Futures story will have a happy conclusion and we need your help this week to help us finish the campaign strong, so we can continue our efforts to create a greener urban environment for all residents of the Twin Cities. Everyone deserves green space access in their social environment and community and public space.
We believe a greener future is possible.  Watch this short video to learn how!